On Giving Tuesday, please give a hound a second chance.
---
When Ginger and Chopper were just 16 months old, their previous owner, who initially intended to use them for breeding, had a change of heart and posted them for sale on Craigslist. Chopper desperately needed treatment for ehrlichia, a tick disease, in addition to parasite infestation and ear infections. Ginger was underweight and also suffered from intestinal parasites. Both also needed to be spayed and neutered. 
Napolean, who's about 5 years old, was in a high kill shelter in Oklahoma and was pulled out by BHRSC's rescue partner there. He was heartworm positive, underweight, had intestinal parasites, ear infections, wasn't neutered, and had some trauma to his right eye, which sadly left him blind. 
Napolean came to BHRSC from Oklahoma on our 20th Hound Haul, and Ginger and Chopper arrived on our 21st one just a few months later. If it weren't for the support of our caring community that helped fund their rescue, Chopper, Ginger and Napolean could have ended up in even worse situations.
These second chances are only possible with your help.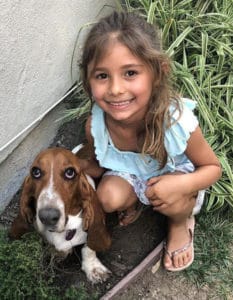 Today, the three Basset Hounds are cherished family members.
When Ginger first arrived in her forever home, her family couldn't believe how sweet she was and how quickly she adapted – as though she knew she was home. Ginger, a gentle soul, was really good with her human sister who had just turned six. After only two weeks, Ginger and her family developed a strong bond and trust. Her family says she has brought so much joy into their lives, making them smile and laugh every day.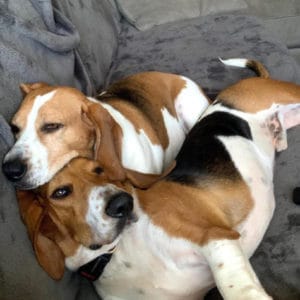 Chopper, now known as Goose, is still fighting off hookworms but is otherwise thriving in his forever home. His 3.5-year-old Beagle brother, Ringo, was not pleased when Chopper first arrived. Over time, they formed a beautiful friendship and Chopper's comforting presence even helped with Ringo's separation anxiety. When they aren't cuddling together, Chopper loves going to the park with Ringo, chasing other dogs, or playing with his toys – exuding joy and goofiness in everything he does. Chopper is big on love and life, and just wants to be wherever the people are.
Napolean, who now goes by Captain was initially fostered by Jenny, BHRSC's medical liaison. It wasn't long before Napolean bonded with Jenny's husband, who was working from home at the time, becoming very much a part of his routine – from 'working' (napping) by his desk during the day, to 'working out' (napping) with him in the garage. Sweet and cuddly Napolean quickly settled into their home and hearts and is now a permanent member of the family. Today he is free of parasites and infections, has been neutered and put on healthy weight. He has also finished his heartworm treatment and is waiting for the final all-clear from the vet. After months of exercise restrictions while going through heartworm treatment, he now loves to go for walks and meet every person and dog he can – a real social butterfly! He loves car rides but could do without the beach and baths.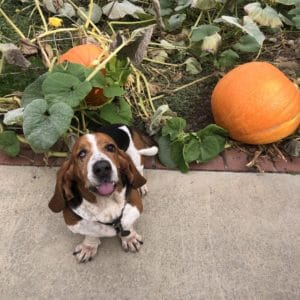 Although they now have 'happy tales', their stories are also stark reminders of the plight of many more hounds who are still scared and alone, discarded at shelters or used as breeding dogs. 
On this Giving Tuesday, a global day of generosity, will you stand with us in support of the hounds desperate for help and a loving forever home?
Please donate on Giving Tuesday, December 1st, and be a lifeline for helpless hounds.
Donors who support this year's Giving Tuesday campaign will receive a free BHRSC Love sticker.
Thank you for your generosity!