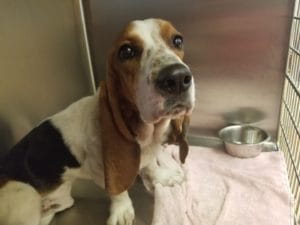 Dodger's enlarged heart fills his entire chest cavity. He has a severely abnormal heartbeat and poor blood circulation. His new owner, who purchased him earlier in the day, surrendered him to the animal hospital upon hearing the news.
Dodger is only 16 months old. He has a cheerful temperament and plenty of energy, despite his ailments. He enjoys eating and playing. He has a happy, comfortable life ahead of him – for as long as he has left.
His remaining time may be measured in months, not years, but he deserves a chance to live his puppy days in a loving home. That's why BHRSC agreed to help when one of Dodger's animal hospital caregivers contacted us.
Dodger will become part of our Forever Fosters program, which means BHRSC will cover the entire cost of his lifelong care while he lives out his days with a caring foster family.
These initial assessments and treatments have already cost $2,000. And BHRSC will spend many times that amount during Dodger's lifetime.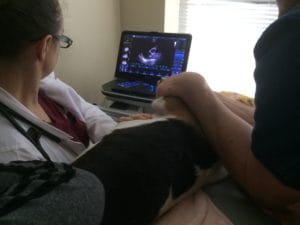 But he is worth it. Veterinary specialists believe that medication will help improve his quality of life, and possibly extend it. While they work out the best treatment strategy, Dodger will need special foster home attention to help him stay calm and not aggravate his heart condition.
Soon though, he'll be free to show off his adorable puppy antics again, and you can help by making a donation to today! There are many more hounds like Dodger, both young and old, who come to BHRSC each year in need of sanctuary and healing made possible only with your continued support.
Thank you for your generosity!