Thanks to your contributions, these hounds received proper health care, foster homes and plenty of love they so desperately needed.
These three hounds are especially grateful for your contributions, and we all want to give you an arooooound of applause.
Dodger – Sweet, loving Dodger's big heart was growing too large for him. Although only 16-months old, his enlarged heart had filled up his entire chest cavity, and his previous owner surrendered him to the animal hospital after the diagnosis. Your donations have helped provide treatment for his condition, and have made Dodger feel like a true puppy once again! His current foster family says he doesn't even know he's not well anymore. He loves his new chew toys, especially his favorite ducky, but is still learning that flip flops aren't meant for eating. Although he's very shy at first, he warms up quickly to new people and dogs.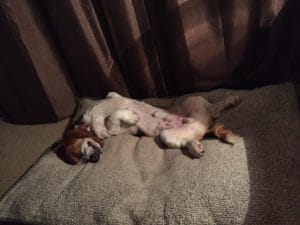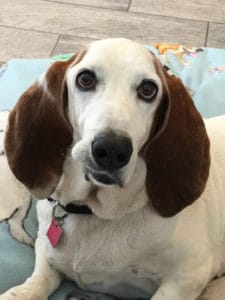 Walter – Like many of the hounds we rescue, poor Walter came to us with a number of health issues. Walter had several masses on his body, bulging discs in his back and skin cancer. He also needed neutering, vaccinations, microchipping, biopsies and ear infection treatment. Thanks to you, we were able to help Walter get the proper care he so desperately needed. Since he was taken in by his current foster family, he's put on more weight and a lot of smiles. He's particularly fond of his new, healthy diet, hypoallergenic treats and carrots. Walter is a big cuddler too, although he also has a penchant for snoring. He will have a cyst on his shoulder and skin cancer on his abdomen removed in the near future, and is hoping to one day become an adoptable hound.
Guy Brutus – Our nice Guy has come a long way since he first joined us! We picked Guy Brutus up from the shelter where he had been abandoned by his previous family, could barely walk and was slated for euthanasia. Guy needed lifesaving spinal surgery and eye removal, made possible by your generous donations. Since his successful procedures, Guy has found a forever family who've fallen head over heels for him. His new family hadn't planned on adopting another dog, but upon rescuing Guy, his new 9-year-old brother has dubbed him his best friend!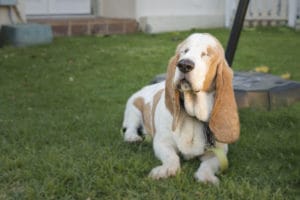 On behalf of these hounds and the many more to come, we sincerely thank you again for your contribution to our cause. Your generosity allows us to go the extra mile to make sure that the hounds we rescue go on to receive the personalized care that all dogs need, no matter the circumstance. We appreciate you!