Six-month-old Jake urgently needs your help
When Jake entered the shelter he was extremely dehydrated, nauseated, dramatically underweight, and declining fast.  A medical exam showed that all of his troubles were caused by a painful intestinal blockage resulting from a collapsed portion of his small intestine that required emergency surgery.Click here to change this text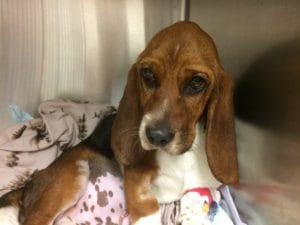 After a surgery that Jake handled like a champion, he started acting like a young puppy should and quickly began to add some much needed weight to his little suffering body.  He almost immediately started to look better and it seemed that he was on the fast track to becoming a healthy little pup, but on the sixth day of his recovery he suddenly became nauseated, and could no longer keep down his special puppy food.  His intestines had collapsed and his bowels were once again painfully blocked.
Jake underwent a second surgery that required an emergency transfer to a vet specialty hospital for 24-hour critical care.  Under round-the-clock observation, Jake was treated with intravenous fluids, antibiotics, and a combination of medications to help his intestines work once again.
After more than $4,000 in emergency medical care Jake is on the mend but still not out of the woods, and while the little fighter has shown some improvements, his condition is one that may be at risk for recurrence.  In these crucial days and weeks following surgery Jake will need veterinary follow-up appointments, costly medication, and access to specialty and critical care services to make a full recovery.
BHRSC needs your help to raise the critical funds necessary to continue treating Jake, and to ensure that this sick but playful little puppy has the opportunity to blossom into a healthy hound.
More than 100 hounds like Jake came to BHRSC just last year.  Each one of them in need of healing, sanctuary, and loving care that would be impossible without your continued support.  Please help us help them by making a donation today.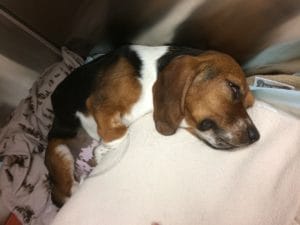 Thank you for your generosity!