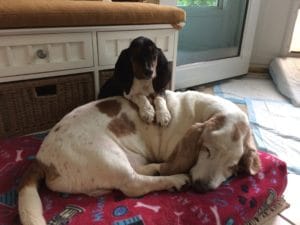 When Albert, a special needs senior, was brought to the OC shelter as a stray and rescued by BHRSC, he was extremely underweight, overwhelmed and in severe pain from corneal scarring and ulcerated ear infections. Both conditions left him blind and deaf due to human neglect.
Dodger, who was just 16 months old when he arrived at BHRSC, had an enlarged heart that filled his entire chest cavity. His owner, who had purchased him earlier that day, surrendered him to the animal hospital immediately after the diagnosis.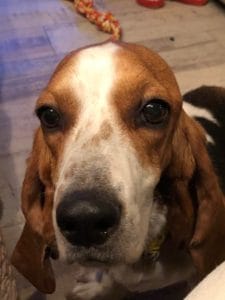 Sadly, these stories are all too common. That's why when we are called upon to rescue an animal in need, we do so without reservation. We know that if we don't help, the outlook is grim for these special needs hounds, whose costly medical care may prevent anyone from stepping forward to give them a home.
These second chances are only possible with your help.
Albert and Dodger are part of the Forever Fosters program, which means that with your support, BHRSC will cover the entire cost of their lifelong care while they live with a foster family. Their veterinary care is expensive, but you can help show them that they are worth every penny – that you're a friend who doesn't see them as a burden.
Become a Pawtomatic donor, the lifeline of Forever Fosters like Albert and Dodger.
Your support will help save their lives. When you donate to BHRSC every month, as part of the Pawtomatic Giving program, you give these hounds a second chance when no one else will.
You can specify a certain dollar amount that you're able to donate monthly. This ensures we have the funds available to pay for lifetime treatments that can easily cost tens of thousands of dollars.
With the help of Pawtomatic donors, Albert and Dodger are thriving in their homes.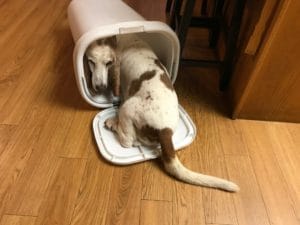 Albert, not being able to see or hear, was initially and understandably anxious and fearful – spending majority of his time on a bed in the corner of the house for months. Now Albert roams freely and confidently around the house and backyard. He has since gained a healthy 15 pounds and has learned to trust people – rolling onto his side for good belly rubs.
Dodger, whose life was expected to be measured only in months, has outlived his puppy days. Veterinary specialists believe that the medication he is on, thanks to Pawtomatic donors, will continue to improve his quality of life, and extend it beyond what we ever thought possible. It is almost too fitting that Dodger has a large heart because despite his condition, he is full of love and adores cuddling with his people.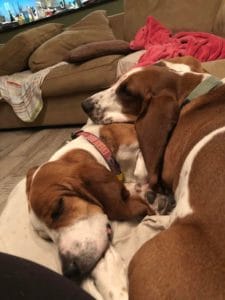 With your monthly donation, we will continue to provide treatment for Albert, Dodger and all the hounds just like them.
On GivingTuesday, December 3rd, will you sign up to be a Pawtomatic donor?
GivingTuesday was founded on a simple idea: a day of coming together as a global community to do good. It's about unleashing the collective spirit of generosity to help those in need – like Albert, Dodger and other hounds who, because of their special conditions, have a difficult time finding a forever home.
When you become a Pawtomatic donor, you help provide the extra care needed to save them from harm.
Donate on GivingTuesday, December 3rd, and we'll send you a free holiday ornament. It's a Thank You for – and a symbol of – all the Basset Hounds you're helping to save through your generosity and compassion.