Penny Needs Your Help to Have a Bright and Shiny Future
---
Penny is a three-month-old puppy who is very sick with life-threatening distemper, and in desperate need of your help.  After purchasing Penny from a breeder 11 days prior, her former owners surrendered her to BHRSC earlier this week. Penny was vomiting, not eating, losing weight, coughing and severely anemic. They realized they had a very sick puppy on their hands, one who needed expert care.  Fortunately, sweet Penny was admitted to a veterinary hospital for testing and treatment once in the care of BHRSC.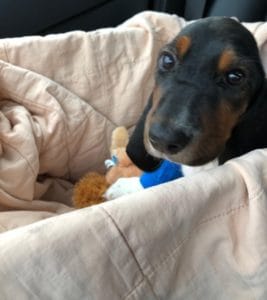 Penny deserves every chance to have a happy and healthy life ahead of her.  To help give her the best chance at recovery Penny has had IV fluids, chest and abdominal X-rays, an ultrasound, lab work, antibiotics and a much-needed blood transfusion to help her anemia. Since arriving to BHRSC, Penny has been provided round the clock care from our regular and emergency veterinarians.
Penny is a fighter and has started to eat again. BHRSC and our veterinarians are hopeful she will be discharged from the emergency hospital soon, but her battle with distemper is not over.  She will continue to need veterinary treatment, and the costs will continue to add up.
Penny's initial assessments, treatments, and bills have already added up to $4,500. BHRSC will spend much more than this to make sure that Penny is healthy enough to find a forever family when she is ready.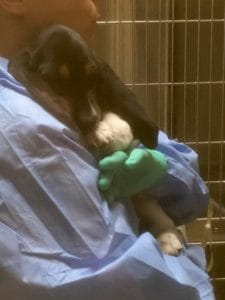 Penny is worth every penny. While our veterinarians work out the best treatment strategy for her, she will need special foster care.
Soon though, we hope Penny will be able to enjoy life and be a healthy, playful, and energetic puppy. You can help by making a donation today.  There are many more hounds like Penny, both young and old, who come to BHRSC each year in need of life-saving care and healing made possible only with your continued support.
Thank you for your generosity!