Boss urgently needs you after a lifetime of neglect...
---
Boss is a 7 year-old basset who was recently surrendered to a shelter by his owner.
The lack of care he received up till his surrender can only be described as neglectful, and he has a series of medical needs that have been overlooked his entire life. The biggest problem he is facing is an orange-sized, ulcerated mass on his neck that requires fresh bandages daily. Because it is terribly infected, surgery is the only option for his recovery.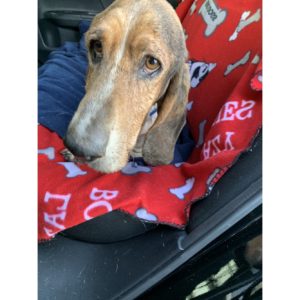 Boss has never been given even the most basic the medical care he needed, like a teeth cleaning or neutering, and his ribs are visible through his skin, a result of not being properly fed. His right eardrum is ruptured from neglect, causing him a great deal of pain, and due to the severity of his infected mass, he needs not one, but two surgeries before we can give him a clean bill of health and find his forever home.
In the few short days he has been with us, Boss's estimated vet costs have grown to over $3,000.  And it doesn't stop there. He still needs an abdominal ultrasound to check for any further involvement of the tumor in his organs and we are currently working with our vet to address his high blood pressure in hopes of being able to move forward with his surgery this week. Once we are able to biopsy the mass, we will be able to determine the appropriate course for his continued treatment.
Boss has never been shown the love and care he deserves. We want to find him the forever family he's been waiting for his entire life and need your help to make sure his dream comes true. Please make a donation today! Boss deserves so much more than he's been given.
Basset Hound Rescue of Southern California strives to give the best possible care to all the hounds that cross our path, and we couldn't do it without you.
Thank you for your support!