Hey there everyone! We are Patty Cake and Bear Bear, a bonded pair of bassets that are looking for our forever home. We came to SoCal all the way from Oklahoma on Hound Haul #27!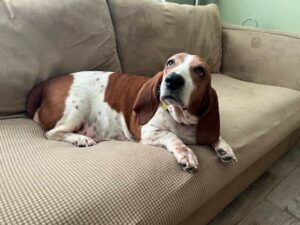 Patty Cake here – I am a 6-year-old red and white basset who is a bit of a food hog and really scared of thunderstorms, though I hear that doesn't happen too often in Southern
California. You could say I am the leader of this pack of two.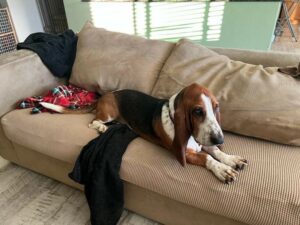 Bear Bear here – I am a 5-year-old tri-colored basset who loves to be near people and pretend I'm a lapdog. Patty Cake and I are inseparable and I wouldn't have it any other way.
We both love to cuddle, love to play together, and would love to meet you! Contact the folks at BHRSC and let's set something up soon.
Patty Cake and Bear Bear are spayed and neutered, microchipped, and up-to-date on vaccines. Their combined adoption fee is $750.